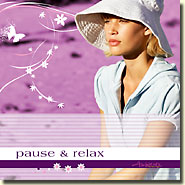 Various Artists
AMB0228
CD £4.95
Buy this CD here from New World Music
MP3 Downloads from
Album Description
The Ambiente music series has been designed to help you live a healthier lifestyle through the discovery of the wellness factor of music and alternative therapies.
Ambiente is about vitality, positive living and thinking, and acquiring a sense of true wellbeing.
The musical moods created are of atmospheric naturalism, the harmonious compositions, at times reflective and meditative, but always inspiring and relaxing will gently help you to truly unwind and allow the inner healing process to begin.
Pause & Relax is a compilation of one track from each of the Ambiente releases.
So slow down, relax, listen and let relaxation come quietly...
CD Track List
Various Artists