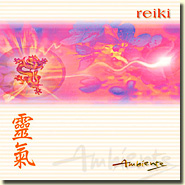 Mike Vickerage
AMB0204
CD £4.95
Buy this CD here from New World Music
MP3 Downloads from
Album Description
Reiki is a subtle form of energy healing, involving the placement of hands on specific areas to balance the body's energies.

It uses spiritually guided life force energy and treats the body as an integrated whole.

It can help ease tension and stress, and help support the body to facilitate healing on all levels: physical, mental, emotional and spiritual.

Mike Vickerage has written superb healing compositions designed to improve the body's energy system and help the inner self promote wellbeing and harmony in our spiritual lives.

The album is a recording of such beauty and sensitivity that it will captivate and nurture all who listen.
CD Track List
All tracks written performed & produced by Mike Vickerage
Albums from Vickerage