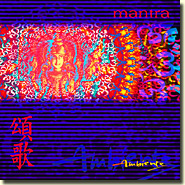 Oliver Wright
AMB0208
CD £4.95
Buy this CD here from New World Music
MP3 Downloads from
Album Description
A mantra is a word or phrase with spiritual significance that takes your mind to the highest realm it can dwell in.
Regular practise of mantra meditation reduces tension and irritability, and thus the feeling of being stressed.
In this album Oliver Wright combines the rich tapestry of orchestral chords with voice, bells, bamboo flutes and ethnic percussion, to help enhance and enrich mantra meditation sessions.
His inspired musical compositions will help to calm your mind, uplift your spiritual inner self and provide the perfect foundation for mantra meditation.
CD Track List
All tracks written performed & produced by Oliver Wright
Albums from Oliver Wright