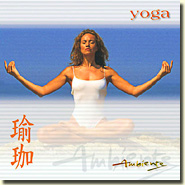 Katie Hope
AMB0201
CD £4.95
Buy this CD here from New World Music
MP3 Downloads from
Album Description
Yoga is an ancient technique that helps us to relax and focus our minds, which in turn helps relieve stress and mental fatigue.
This album by Katie Hope has been specifically designed to accompany yoga sessions, but also befits many other relaxing activities such as journalling or sitting in contemplation.
Katie Hope's music is a gently invigorating balance of active and passive melody and tempo.
The Mood created is one of atmospheric naturalism; the harmonious compositions, at times reflective, uplifting or exotic will gently guide the spirit into a perfect restful state of inner peace and relaxation that will regenerate your mind, body and spirit.
CD Track List
All tracks written performed & produced by Katie Hope
Albums from Katie Hope