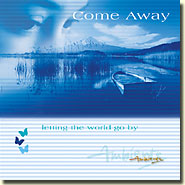 Emily Shreve
AMB0224
CD £4.95
Buy this CD here from New World Music
MP3 Downloads from
Album Description
Come Away... perhaps one of the most evocative lines stirring memories of places we long to visit, of loved ones we long to spend more time with...
This album has been written for those times when you want to slow down the world and escape from daily stress and problems.
In Come Away, Emily Shreve creates a daydream inducing atmosphere giving you a one-way ticket to the ultimate chilled cocoon of contentment.
So why not get into something comfortable, perhaps a deep cushioned sofa and some lounge wear, dim the lights, curl up with your best friend - could be your partner or pet friend - and let the day's worries evaporate whilst the relaxing blend of acoustic melodies envelop you and warm your weary mind and soul.
Come Away is an amiable acoustic mix of laid-back, dreamy guitar ballads, mellow piano soundscapes and smooth flute melodies, promising you an enjoyable break away from it all.
This album also contains an 8 page booklet with ways to say goodbye to worry and stress, and set you on the road of positive thinking and renewed self confidence.
CD Track List
All tracks written performed & produced by Emily Shreve
Albums from Emily Shreve