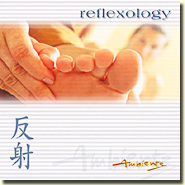 Chris Glassfield
AMB0206
CD Version Not Available
MP3 Downloads from
Album Description
Reflexology is a hands-on self-help technique that uses the body's own energy centres to heal itself by applying pressure to specific reflex points in the feet.
The album is an ideal accompaniment to reflexology sessions because the gentle melodies will allow you to relax deeply and get in touch with your own healing power.
With acoustic guitar, concert and ethnic flutes, and gentle orchestrations, this exquisite recording will be the natural choice for all your relaxation sessions.
CD Track List
All tracks written performed & produced by Chris Glassfield
Albums from Chris Glassfield