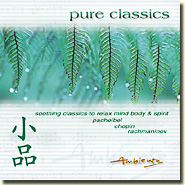 Oliver Wright
AMB0220
CD £4.95
Buy this CD here from New World Music
MP3 Downloads from
Album Description
The renewed interest in classical music over the past 10 years has brought joy and wonder to millions of people who previously found the works of the great composers mysterious and inaccessible.

In Pure Classics we have compiled a collection of the world's most beloved themes including Pachelbel's Cannon in D, Chopin's Fantasy Impromptu, the delightful Pavane from Fauré & Mascagni's Rusticana.

Undoubtably an album that will delight and bring pleasure whenever it is played.

Contains natural sounds.
CD Track List
All tracks arranged performed & produced by Oliver Wright
Albums from Oliver Wright