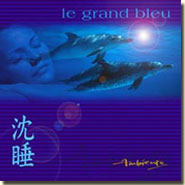 Jonn Savannah
AMB0215
CD £4.95
Buy this CD here from New World Music
MP3 Downloads from
Album Description
Piano melodies, inspired by the oceans of the world.
The gentle sounds of the sea and the chatter of dolphins provide the perfect tribute to our natural world beneath the waves.
Sensitive and evocative of gently lapping water and tranquil blue green depths, the melodies create calm, peace and an atmosphere to relax and dream in.
Featuring a 1935 Steinway piano this album evokes visions of freedom, joy, grace and serenity.
CD Track List
All tracks written performed & produced by Jonn Savannah
Albums from Jonn Savannah