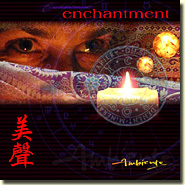 I'nia
AMB0216
CD £4.95
Buy this CD here from New World Music
MP3 Downloads from
Album Description
Enchantment represents the finest example of the universal language of music.

Inspired by musicians and poets from many lands, the album has created a beautiful harmonic tapestry of voice and cultural instruments that unite us all through this most wonderful universal gift.
The beautiful haunting voice of I'nia supported by Indian Flutes, Tribal Drums, Sitar, Celtic pipes and other world instruments will captivate and lead you on a fascinating pilgrimage of musical discovery.
CD Track List
All tracks written performed & produced by I'nia
Albums from I'nia