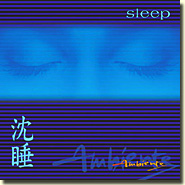 Helen Rhodes
AMB0202
CD £4.95
Buy this CD here from New World Music
MP3 Downloads from
Album Description
Sleep is one of the body's basic natural requirements, vital for physical and mental health.
If you experience difficulty sleeping this album may help you break free from poor sleep habits.
The music includes chordal patterns and sounds encouraging deep sleep and reduces activity in the brain.
As the soft orchestrations wash over you and your brain waves become calmer, the onset of sleep will become a natural extension to the ambience created.
CD Track List
Hypnos (30:38)
Somnus (30:09)
All tracks written performed & produced by Helen Rhodes
Albums from Helen Rhodes