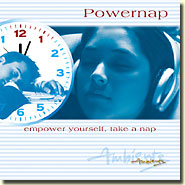 Helen Rhodes
AMB0226
CD £4.95
Buy this CD here from New World Music
MP3 Downloads from
Album Description
Getting enough sleep is vital for health and productivity. According to new studies, nothing tunes up mind and body like a good nap.
But there is an art to catching the right amount of z's; this art is called powernapping.
The music of Powernap has been especially researched to find chordal patterns and sounds that actually encourage deep relaxation and help you to sink into a short restful sleep out of which you will be gently awoken by a soothing voice.
The music will aid slowing down your respiration, your brain activity, your eye and jaw-muscle movement so you can embark on a restorative nap from which you will re-emerge feeling refreshed, re-energized, positive and ready to face the rest of your day.
The album contains three 18-minute tracks, the ideal time for a powernap, and two 5-minute tracks for short super-efficient micronaps that will fit nicely in a high-pressure schedule of meetings and deadlines.
This album also contains an 8 page booklet giving you useful information on powernapping and its benefits for you.
CD Track List
All tracks written performed & produced by Helen Rhodes
Albums from Helen Rhodes