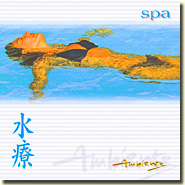 Joseph Wade & Helen Rhodes
AMB0213
CD £4.95
Buy this CD here from New World Music
MP3 Downloads from
Album Description
Water has been considered essential for physical and spiritual wellbeing throughout history.
It has the ability to heal and soothe, and when used with knowledge and skill, it can make a tremendous difference to how we feel.
In this inspired album comes the ultimate marriage between music and water.
Rich orchestrations supporting themes of wondrous beauty will make this 'water music' an essential album in any collection.
CD Track List
All tracks written, performed & produced by Joseph Wade & Helen Rhodes
Albums from Helen Rhodes
Albums from Joseph Wade