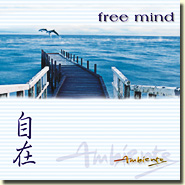 Mark Allaway & Mike Eaves
AMB0222
CD £4.95
Buy this CD here from New World Music
MP3 Downloads from
Album Description
A pure acoustic instrument recording featuring the wonderful guitar playing of Mike Eaves complemented perfectly by the haunting sax and flute of Mark Allaway.
Containing subtle nature sounds and soft orchestration this album is sure to become a cherished favourite that will be played time and time again.
This album is accompanied by an 8-page booklet which features an excerpt from the book 'A Free Spirit' by Betty Shine.
Beautifully written and hugely inspiring this book could be the key to the doors of your mind that would otherwise remain closed.
CD Track List
All tracks written & performed by Mark Allaway & Mike Eaves
Albums from Mark Allaway
Albums from Mike Eaves