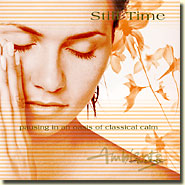 Katie Hope
AMB0225
CD £4.95
Buy this CD here from New World Music
MP3 Downloads from
Album Description
Still Time is a wonderful collection of new classical tunes inspired by the most popular and recognisable classical composers of all times such as Albinoni, Ravel, Mahler, Barber, Rodrigo, Canteloube and Vaughan Williams to name but a few.
The evocative melodies are pure classical delights and you are sure to enjoy these seemless perfect pieces of exquisite music, at times graceful yet forceful, powerful yet peaceful, melancholic yet romantic.
This album is a spiritual odyssey through emotion, mood and thought. Just close your eyes and allow your mind to drift away with the soothing sounds of piano, classical guitar, violin, harp and strings.
Still Time is a stunning album, and one that should be heard not just by classical music lovers but by anyone who values thoughtful, subtly expressive music.
Music expresses that which cannot be said and on which it is impossible to be silent.
Victor Hugo
CD Track List
All tracks written performed & produced by Katie Hope
Albums from Katie Hope