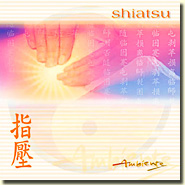 Oliver Chung
AMB0207
CD £4.95
Buy this CD here from New World Music
MP3 Downloads from
Album Description
Shiatsu is a hands-on self-help form of holistic massage that works on the flow of chi that circulates through our bodies in specific energy channels.
It seeks to restore the internal balance of energy through stimulation of specific pressure points.
Deep relaxation is an essential part of this process and the correct music can be beneficial in achieving the ideal ambience to calm and relax the mind and body.
Using bamboo flutes, ethnic stringed instruments, chimes and bells Oliver has perhaps produced the finest recording for the perfect shiatsu session.
CD Track List
Fire Dragon (22:38)
Earth Dance (21:36)
Healing Hands (20:01)
All tracks written, performed & produced by Oliver Chung
Albums from Oliver Chung