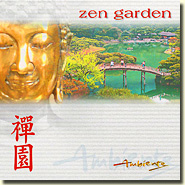 Colin Willsher
AMB0214
CD £4.95
Buy this CD here from New World Music
MP3 Downloads from
Album Description
Zen has been known in the West through different forms of practise including martial arts, the tea ceremony, the art of flower arrangement and the layout of gardens.
A garden can create the space that we need to free our mind for creative exploration.
Music also plays a very important part in creating the right atmosphere for Zen meditation and in this ethnospheric album you will hear music written to aid meditation.
Let your mind, body and spirit dance to the enticing rhythms of voice, flutes, violin, percussion and nature sounds, and enter a sanctuary of peace within you.
CD Track List
All tracks written, performed & produced by Colin Willsher
Albums from Colin Willsher