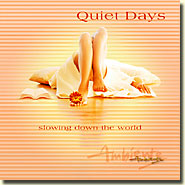 Brendan O'Neil
AMB0227
CD £4.95
Buy this CD here from New World Music
MP3 Downloads from
Album Description
Quiet Days is pure easy listening. It has a pinch of mellow smooth jazz, perfect for relaxing or entertaining, a twist of soft romantic blues guaranteed to rekindle dreamy thoughts of love and romance and a generous shot of memorable gentle but funky melodies that will wisk you away on a laidback journey of chilled relaxation.
Featuring electric and acoustic guitars, piano, keyboards, bass, hammond organ and soft percussion, Quiet Days is a truly relaxing compilation, which will provide perfect lazy days soundtracks for your personal time out from every day stress.
So no time to waste. Surrender yourself to over sixty minutes of soothing smooth melodies and explore the joys of doing sweet nothings, as these tunes make the sun shine from your speakers!
This album also contains an 8 page booklet with ways to say goodbye to worry and stress, and set you on the road of positive thinking.
CD Track List
All tracks written performed & produced by Brendan O'Neil
Albums from Brendan O'Neil