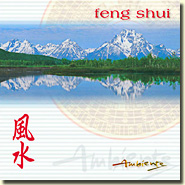 Oliver Wright
AMB0205
CD £4.95
Buy this CD here from New World Music
MP3 Downloads from
Album Description
Feng Shui, meaning 'wind water', is an ancient practise that has been in existence in the East for several thousand years.
It encourages the balance between Heaven and Earth and its practitioners believe that we should live in harmony with our environment, harnessing the life energy, and work with the planet instead of against it.
This album can help you unlock the secrets of the harmonious flow of chi to increase your health, wellbeing and happiness.
The melodies encompass the traditions and sounds associated with Feng Shui and are performed on ethnic bamboo flutes, bells, chimes, gongs, violin and gentle orchestrations.
CD Track List
All tracks written performed & produced by Oliver Wright
Albums from Oliver Wright