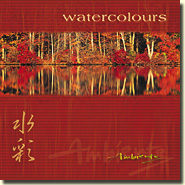 Jonn Savannah
AMB0223
CD £4.95
Buy this CD here from New World Music
MP3 Downloads from
Album Description
Piano themes dancing with joy and life will intrigue and delight in this beautiful acoustic instrument recording from Jonn Savannah.
Performed on a 1934 Steinway grand the mastery of Jonn's technique, and his ability to write haunting themes that flood the emotions with every mood from joy to reflection of lost love, makes Watercolours the perfect 'anytime' album.
This album is accompanied by an 8-page booklet giving you useful information on relaxation.
It is a unique introduction for those becoming interested in personal "time-out" from the daily stresses of life and a source of inspiration for those who have already made relaxation a part of their lives.
CD Track List
All tracks written, performed & produced by Jonn Savannah
Albums from Jonn Savannah