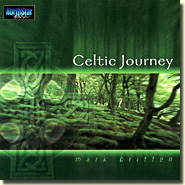 Mark Britten
NSMCD 165
CD £4.95
Buy this CD here from New World Music
MP3 Downloads from
Album Description
Ancient folk melodies merge with beautifully crafted original and traditional compositions to create an album of rarebrilliance.
The haunting sound of the Uillean Pipes drifts across oceans of time to entwine with flutes, border pipes, acoustic guitar and Celtic harp in an evocative and mystical journey of love and tradition.
A superb album featuring live instrumentation that will uplift and celebrate the Celtic traditions.
CD Track List
Written, arranged, performed & produced by Mark Britten
Albums from Mark Britten