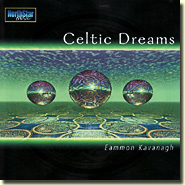 Eammon Kavanagh
NSMCD 249
CD £4.95
Buy this CD here from New World Music
MP3 Downloads from
Album Description
Beautiful Celtic themes and airs played by some of the finest musicians in Europe make Celtic Dreams a valuable recording in any world music collection.
Traditional instruments create the perfect ensemble for the haunting themes whilst the voices of some of Ireland's favourite performers add the perfect vocal counterpoint.
Instruments include: Uillean pipes, flutes, violin, guitar and piano. Enyaesque vocals by Nicci Berry, Liz York & Viola Britten.
CD Track List
Written & produced by Eammon Kavanagh
Albums from Eammon Kavanagh