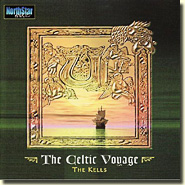 The Kells
NSMCD 230
CD £4.95
Buy this CD here from New World Music
MP3 Downloads from
Album Description
A carefully researched and superbly performed album inspired by the Irish migration of the 1840s.
Between 1846 and 1847, due to the famine, over a million people died and a further million were compelled to emigrate to America.
There has probably never been an album so beautifully and movingly recorded, which embodies the hopes and dreams of a nation, as The Celtic Voyage.
CD Track List
Guitar & Mandolin - Steve Hall
Fiddle & Vocals - Liz Ramsay
Whistle, Button Accordion & Keyboards - Helen O'Connell
Performed & arranged The Kells
Albums from The Kells