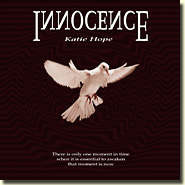 Katie Hope
NSMCD 316
CD £4.95
Buy this CD here from New World Music
MP3 Downloads from
Album Description
Inspired by a Zen state of openness that leads to exploration Katie Hope's melodies capture the overwhelming sense of calm and tranquillity, which she experienced on her travels through Tibet.
Innocence is a peaceful truly inspirational and enlightening tribute to the Tibetan people and all those who seek to bring a little peace into this world.
"When the iron bird flies and horses run on wheels, the Tibetan people will be scattered like ants across the face of the earth, and the Dharma will come to the land of the red men."
(Prophecy by Padmasambhava, an Indian teacher who took Buddhism to Tibet in the 8th century)
CD Track List
Composed & performed by Katie Hope
Produced, recorded and mixed by George Raphael
Sound Engineer John Hartley
Assistant Sound Engineer William Presland
Music Recorded @ Future State Studios, UK
Mastering by John Hartley @ Musiklab
Sleeve design © 2005 Jinx Graphics
Albums from Katie Hope