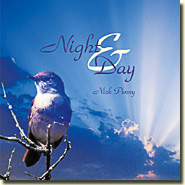 Nick Penny
NSMCD 310
CD £4.95
Buy this CD here from New World Music
MP3 Downloads from
Album Description
The combination of harp and the song of the nightingale must be one of the most wondrous combinations of music and nature ever experienced.
In this unique album Nick Penny has written inspired themes which bring alive the beauty of the harp and the hauntingly beautiful song of the nightingale.
The moods are constantly changing and seldom interrupted by pause, at one moment your heart will thrill with joy and wonder as the bird song soars a natural counterpoint to the harp's own melodies before the laughing, sighing modulations gently lead to quiet reflection and peace within.
In Night & Day you will find an album that will give countless hours of pleasure whenever it is played.
The nightingales were recorded by Nick during May and early June 2003, between 9pm and the following 5am in an English bluebell wood in Northamptonshire.
CD Track List
All tracks written performed & produced by Nick Penny
Albums from Nick Penny