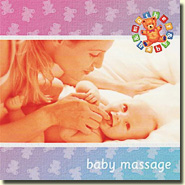 Katie Hope
NSMCD 291
CD £4.95
Buy this CD here from New World Music
MP3 Downloads from
Album Description
Babies are intuitive and their sense of touch highly developed.
To a baby touch is talk, and massage should be a daily ritual that allows you to centre yourself and connect deeply with your baby.
In recent tests researchers found that massaged babies actually spent more time in quiet, unstressed and alert states and therefore their sleep time was deeper and more restful.
The soothing melodies of Katie Hope will be yours and babys perfect musical companion for these precious moments of blissful bonding.
CD Track List
Written, performed & produced by Katie Hope
Recorded at Future State Studios, Devonshire, UK
Albums from Katie Hope