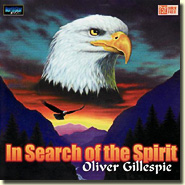 Oliver Gillespie
NSMCD 107
CD £4.95
Buy this CD here from New World Music
MP3 Downloads from
Album Description
Soothing, meditative music of a dream-like quality gently transports you high above the spectral plain.
This inspiring composition offers a masterpiece of natural ambient layers that will relax and restore your inner peace and carry you, in waves of tranquil harmony, into a state of complete relaxation.
Your perfect companion for calming the mind, diminishing stress, eliminating fatigue and revitalising mind, body and soul...
CD Track List
In Search Of The Spirit (19:27)
Dream Dancer (19:49)
Attainment (17:04)
All tracks written performed & produced by Oliver Gillespie
Albums from Oliver Gillespie