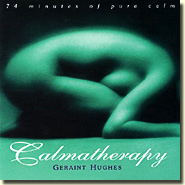 Geraint Hughes
NSMCD 216
Buy this CD here from New World Music
MP3 Downloads from
Album Description
74 minutes of pure calm.
Tranquillity and peace of mind are essential to good health and well being.
In Calmatherapy 74 minutes of pure calm Geraint Hughes provides a perfect musical ambience which encourages deep relaxation.
Soothing atmospheric music, especially designed to relax and restore the inner balance, flows through the senses gently winding down the entire body to a state of pure calm.
CD Track List
All tracks written performed & produced by Geraint Hughes
Albums from Geraint Hughes