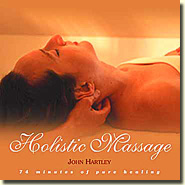 John Hartley
NSMCD 288
CD £4.95
Buy this CD here from New World Music
MP3 Downloads from
Album Description
Massage and the simple act of touching are two of the most important things we can do to help relieve stress and anxiety.
The sensation of hands on our body, massaging or caressing, sends messages to our inner consciousness that opens a door to trust, enhances intimacy and promotes deep relaxation.
The album contains rich uplifting orchestrations and spiritually inspired piano melodies suitable for all massage sessions.
CD Track List
Written, performed & produced by John Hartley
Albums from John Hartley