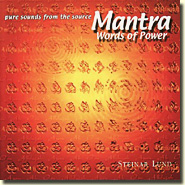 Steinar Lund
NSMCD 283
CD £4.95
Buy this CD here from New World Music
MP3 Downloads from
Album Description
Mesmeric ethnic percussion interweaves with rich orchestral textures to provide the perfect musical framework for this collection of mantra chants.
For centuries mantras have been used to harmonize, calm and focus the mind and create an inner spiritual balance in our lives.
Mantra - Words of Power is specifically designed to provide the perfect atmosphere for deep relaxation and spiritual enrichment.
Sounds have vibrational energy and for every word we speak in our daily lives we create an invocation or decree: a Mantra for the enrichment of our lives - a word of power.
CD Track List
All tracks written performed & produced by Steinar Lund
Albums from Steinar Lund