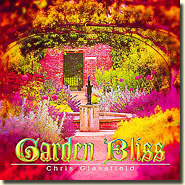 Chris Glassfield
NSMCD 246
CD £4.95
Buy this CD here from New World Music
MP3 Downloads from
Album Description
The garden.
Perhaps one of the most tranquil and calming places imaginable and a haven for lovers of nature and peace.
The sound of birdsong, the gentle sigh of a summer breeze or the murmur of a brook all evoke the atmosphere that fulfils our basic need to be at one with nature.
This wonderful album of acoustic guitar melodies will enhance any quiet moment sitting in the garden or dreaming of summer.
CD Track List
Arranged, performed & produced by Chris Glassfield
Guitars - Chris Glassfield
Flute - Suzanne Wray
Recorded & Mixed at Glass Studios, Totnes
Albums from Chris Glassfield