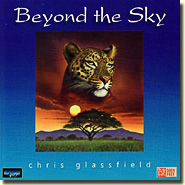 Chris Glassfield
NSMCD 169
CD £4.95
Buy this CD here from New World Music
MP3 Downloads from
Album Description
Few guitarists have successfully bridged the gap between classical and contemporary music.
Chris Glassfield is such an artist, with best selling albums throughout the world.
In Beyond the Sky he weaves a beautiful tapestry of contemporary classical guitar and flute melodies inspired by the African plains.
Landscapes that stretch forever, golden sunsets and hot velvet nights are all reflected in this superb work.
CD Track List
All tracks written performed & produced by Chris Glassfield
Albums from Chris Glassfield