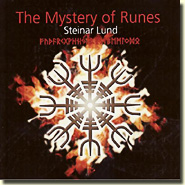 Steinar Lund
NSMCD 289
CD £4.95
Buy this CD here from New World Music
MP3 Downloads from
Album Description
The whispers from a time of mystery are brought to life in this music inspired by the Runes, an ancient alphabet with hidden meanings and associations with Northern mythology.
The music invites you to conjure the world of Runelore in your consciousness today by echoing the esoteric era of Norse Gods, rituals and wisdom.
Soothing, mysterious and joyous, the music moves you through the moods of Runic realm connecting with our spiritual heritage.
CD Track List
Written, performed & produced by Steinar Lund
Albums from Steinar Lund