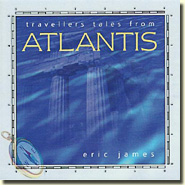 Eric James
NSMCD 109
CD £4.95
Buy this CD here from New World Music
MP3 Downloads from
Album Description
Far beyond the horizon, deep beneath the ocean a mystical city welcomes you with the most beautiful music imaginable.
Atlantis evolves an array of images unlike any other.
The serenity of the ocean, the sounds of the dolphins, and the song of the humpback whale are all accentuated by the soothing contemporary music.
CD Track List
Written, performed & produced by Eric James
Albums from Eric James