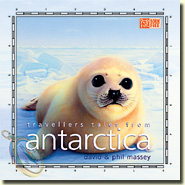 David & Phil Massey
NSMCD 146
CD £4.95
Buy this CD here from New World Music
MP3 Downloads from
Album Description
Perhaps the most awe inspiring region on earth – Antarctica.
Her beauty, mystery, and presence has called to adventurers for eons and yet she still remains the most unexplored continent on our planet.
This spiritually expansive Travellers Tale will unfold visions of space, grandeur and virgin beauty through a magnificent season of musical observation.
CD Track List
All tracks written performed & produced by
David & Phil Massey
Albums from David & Phil Massey