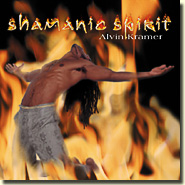 Alvin Kramer
NSMCD 314
CD £4.95
Album Description
Shamanic Spirit is music inspired by nature and by a desire to return the listener to a state of well-being through sound, rhythm, melody and electronic overtones.
It is music that arises from the intuition rather than the logical mind.
Listen to it for pleasure or an inner experience, or use it for dancing, celebration or healing.
---
"This particular CD is a truly powerful and energetic piece which I'm sure anyone interested in music that has a real purpose will enjoy.

Each song has a special influence which is explained in the sleeve, for example Earth Diving was written after a holotropic breathwork session, and Lightstix is a gentle interpretation of the best elements of trance-dance, or rave-culture.

With a strong shamanic overtone, this CD is well-deserving of a listen."
- Kevin Rule - Odyssey Magazine

---
"...Kramer draws from his experiences in the United States and in Scotland's Findhorn Community to inform the healing intention of his music.

The 10 songs on Shamanic Spirit are keyboard-based expressions of Kramer's knowledge and experience of holotropic breathing, trance dance, medicine wheels, cave dwelling, and other adventures.

Listeners may want to use the driving soundscapes on this album for dancing or yoga, or they may prefer simply to stay still and let the CDs rhythmic sounds wash over them."

- Sounds From the Ground Up by Mara Applebaum

- New Age Retailer
CD Track List
All tracks composed & performed by Alvin Kramer
Additional drum programming & wizardry by Rob Simms
Albums from Alvin Kramer