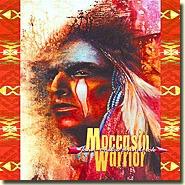 John "Rabbit" Bundrick
NSMCD 159
CD £4.95
Buy this CD here from New World Music
MP3 Downloads from
Album Description
John "Rabbit" Bundrick's Moccasin Warrior is a shining testament to the Native North American Indian.
This moving and intensely personal observation of a people who were the indigenous spirit of America is told here in music and spoken word.
Its truth is both direct and honest, and will leave you with a lasting impression of the Indians' final years.
CD Track List
Written, performed & produced by John "Rabbit" Bundrick
Pioneers theme written & performed by Reg Meuross
Spoken Word by Snuffy Walden
Albums from John "Rabbit" Bundrick