Oh My Word! It's Christmas Time Again.
11th December 2013
Oh My Word! (It's Christmas Time Again)
A wonderful Christmas song by NorthStar writers Chris & James Ready! Mince pie anyone?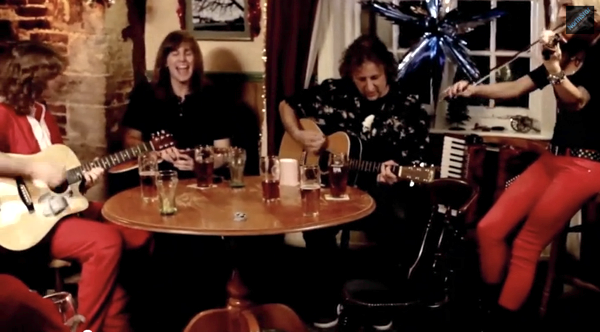 "I heard this song on the radio the other day and I knew it sounded familiar. I have it videoed on my phone from last Xmas at my local pub in Tostock. I know two of the guys from a band called Walkway. The audio from my phone is shocking so I boshed on the proper song. It so nearly fits."
Composers: Jim Reid & Rupert Matthews
Artists: Chris & James Ready
The Young And The Restless For Zara
12th November 2013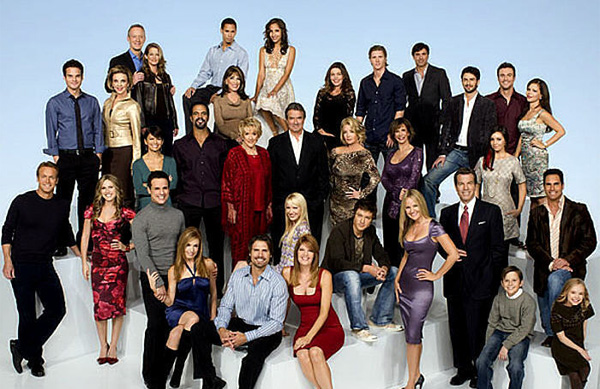 Zara Phillips' song 'Say It To Me' will be featured on 'The Young And The Restless' airing Wednesday 13th of November.
Kiss Me On Radio 1
18th March 2013

Lauren's fabulous track Kiss Me will be played on Radio One next week from March 25th!
Here's a list of shows and times:
Monday: Sara Cox (10:00-12.45)
Tuesday: Greg James (16:00-19:00)
Wednesday: Dev – early b'fast (04:00-06:30)
Thursday; Scott Mills (13:00-16:00)
Saturday: Huw Stephens (13:00-16:00)
Sunday: Gemma Cairney (07:00-10:00)
Kiss Me - Lauren Wright
31st January 2013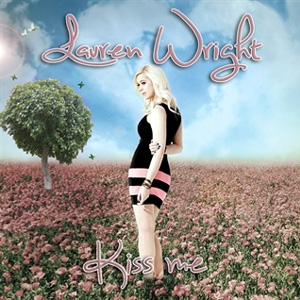 Lauren Wright's debut single, Kiss Me now has over 52 thousand views on her YouTube channel LaurenWrightOfficial.
This fantastic single was produced in Nashville by Derek Garten (Taylor Swift), who was keen to work with Lauren following her performance at SXSW 2011, and this music video was directed by award-winning director Steve Graham (Eurythmics, Lenny Kravitz).
Lauren had a UK tour in Autumn 2012 to coincide with the release of the single and has recently provided acoustic support to Britney Spears, The Saturdays, and JLS at the LG Arena in Birmingham.
She has also supported Misha B, and featured in a BBC Introducing recording session in her home county of Worcestershire.
Merry Christmas & a Happy New Year!
18th December 2012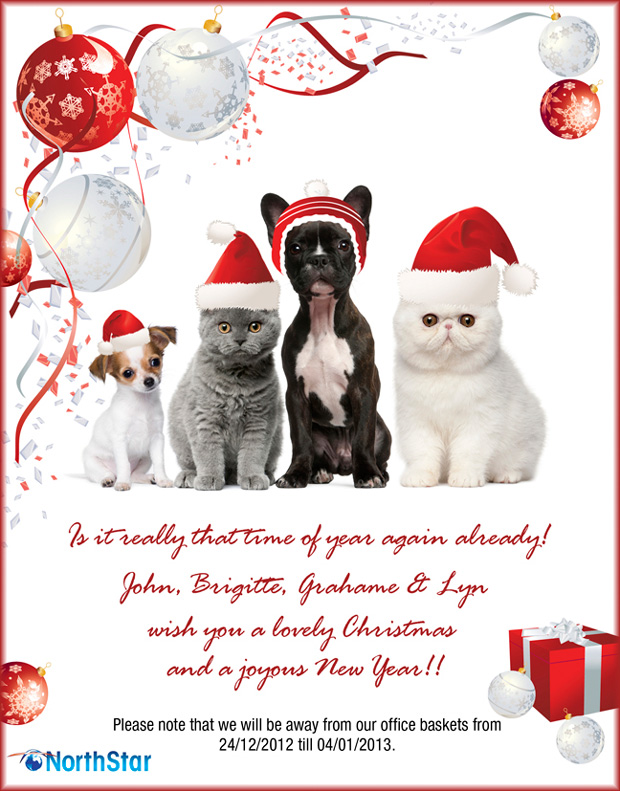 Is it really that time of year again already?
John, Brigitte, Grahame & Lyn wish you a lovely Christmas and a joyous New Year!
Please note that our offices will be closed from 24/12/2012 till 04/01/2013.
La La Love Golf
10th August 2012
The new Volkswagon Golf Highline advert in Italy features the excellent song La La Love by NorthStar's Becky Jerams & Steve O'Neil.
Listen to the full version of La La Love below:
Hollywood Heights For Zara
10th August 2012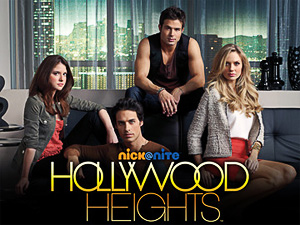 Two wonderful tracks from NorthStar's Zara Phillips have been placed in Nick@Nite's soap opera Hollywood Heights.
"I'm Flying Today", co written by legendary writer Ted Perlman, was aired twice on 8th August 2012.
"Harden Your Heart" will be used on Hollywood Heights, episode #153 on Aug 29th 2012.




Smile For The Camera In The Fame Report
20th April 2012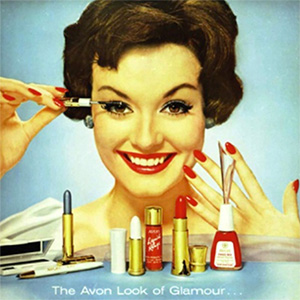 The Fame Report, hosted by Dr Pamela Stephenson, examines the reality of being famous, its psychological impact and its effect on key relationships for those in the public eye.
Requiring a 1950s style orchestral track for the show Smile For The Camera, by NorthStar's Tony Halligan & John Elleson-Hartley, was the perfect piece of nostalgia to fit the bill!







Launching The New Citroen DS5
20th April 2012
Citroen DS5 Cinema Trailer Video
To view this content please check your browser is javascript enabled and that you have the latest version of
Adobe Flash
.
The new Citroen DS5 was launched with a huge online campaign which included five lucky people winning a luxury weekend in the South of France to drive and review DS5 ahead of its UK launch.
This is the advert, with music by NorthStar's Neil Myers, that was shown in cinemas throughout the UK this month.
BBC Radio Wales Single Of The Week
16th April 2012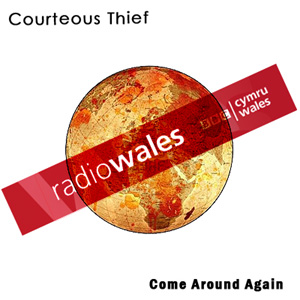 Come Around Again, the fantastic new song from Welsh band Courteous Thief, is the current BBC Radio Wales Single of the Week.
The next place to catch the guys performing will be at the Roadhouse in Manchester on 26th April supporting The Musgraves.
Listen to more great tracks from Courteous Thief on their page by clicking here.


Saving The Titanic
13th April 2012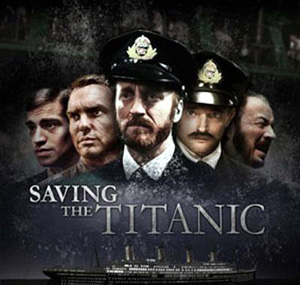 Saving The Titanic is a wonderful new production telling the untold story of the self-sacrifice and bravery of the ship's engineers, stokers and firemen in the face of impending death.
The fantastic music that accompanies the dramatic story is composed by NorthStar's Steve Lynch.
Saving The Titanic has been airing on PBS since it's premiere two weeks ago and will be on ZDF in Germany this weekend and Service TV in Austria.
If you haven't yet seen it then it is on the History Channel UK at 6pm tomorrow (Saturday 14th April) and on Channel 4 on Sunday 15th April at 4:10pm.






Listen To A Symphony
13th January 2012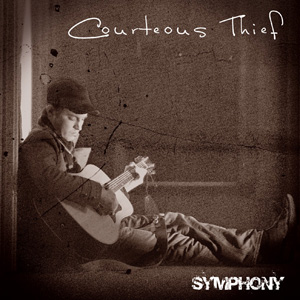 Symphony is the debut album from Courteous Thief and can now be heard in full on our SoundCloud account.
This album is a collection of twelve fantastically crafted songs from these four talented guys from Wales.
Listen to the album on SoundCloud by clicking here.
All of these tracks by Courteous Thief are available for immediate licensing. Contact us to use them in your production.

Available on:
Listen on SoundCloud
Merry Christmas & a Happy New Year!
18th December 2011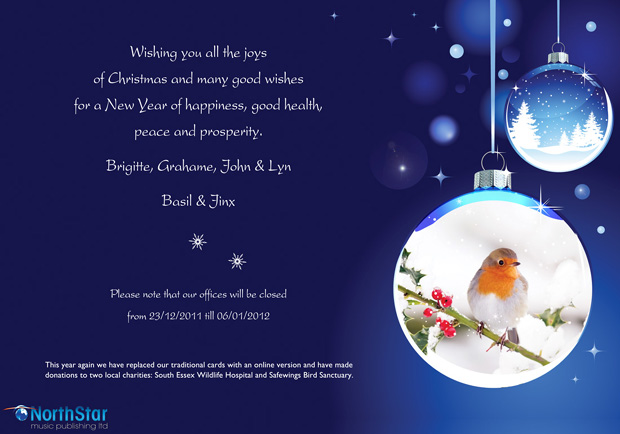 Wishing you all the joys of Christmas and many good wishes for a New Year of happiness, good health, peace and prosperity.
Brigitte, Grahame, John & Lyn
Basil & Jinx
Please note that our offices will be closed from 23/12/2011 till 06/01/2012.
This year again we have replaced our traditional cards with an online version and have made donations to two local charities:
South Essex Wildlife Hospital
and Safewings Bird Sanctuary
Uncharted 3 Official UK Trailer
8th December 2011
Playstation Uncharted 3 Ad Video
To view this content please check your browser is javascript enabled and that you have the latest version of
Adobe Flash
.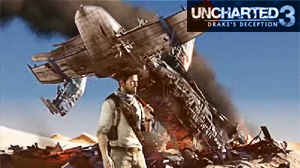 This is the current official UK advert trailer for Sony Playstation's Uncharted 3: Drake's Deception game, with music written by NorthStar composer Neil Myers.





Stephen Rees' Satie Features In Boss
25th November 2011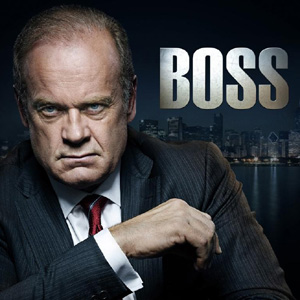 Boss is Kelsey Grammer's new critically acclaimed series that premiered on Starz on 21st October 2011 and a second series had already been ordered before this date.
The Lionsgate production stars Grammer in the lead role as Tom Kane, the mayor of Chicago, who has recently been diagnosed with a degenerative neurological disorder but conceals it from everyone as he's determined to stay in charge.
Stephen Rees' performances of Erik Satie's music were perfect for the brief and they come from his album Stephen Rees Interprets Erik Satie.
Listen to the tracks below or click here to listen to them on SoundCloud.
The tracks used so far in the series are Gnossiennes No,1 & 3 (tracks 4 & 5), Embryons Dessches II: d'Edriophthaima (track 18), and Trois Morceaux en de Poire (track 25).
Buy the tracks from this album by clicking the logos below: