Merry Christmas & a Happy New Year!
18th December 2011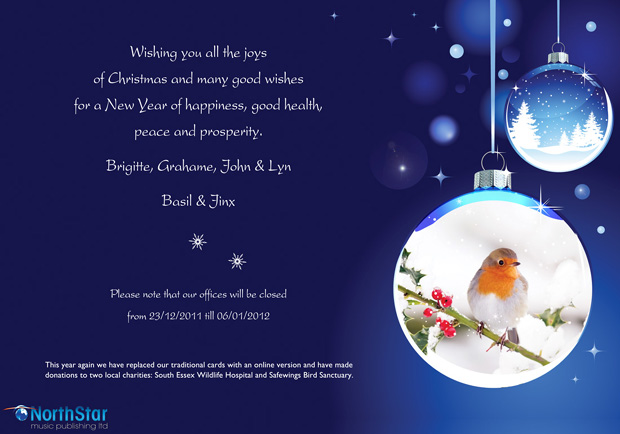 Wishing you all the joys of Christmas and many good wishes for a New Year of happiness, good health, peace and prosperity.
Brigitte, Grahame, John & Lyn
Basil & Jinx
Please note that our offices will be closed from 23/12/2011 till 06/01/2012.
This year again we have replaced our traditional cards with an online version and have made donations to two local charities:
South Essex Wildlife Hospital
and Safewings Bird Sanctuary
Uncharted 3 Official UK Trailer
8th December 2011
Playstation Uncharted 3 Ad Video
To view this content please check your browser is javascript enabled and that you have the latest version of
Adobe Flash
.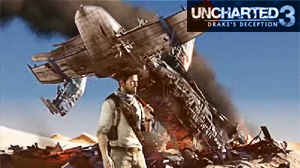 This is the current official UK advert trailer for Sony Playstation's Uncharted 3: Drake's Deception game, with music written by NorthStar composer Neil Myers.





Stephen Rees' Satie Features In Boss
25th November 2011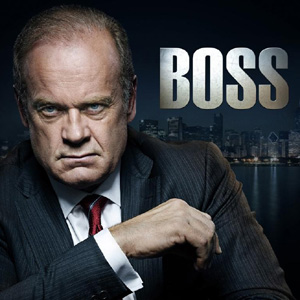 Boss is Kelsey Grammer's new critically acclaimed series that premiered on Starz on 21st October 2011 and a second series had already been ordered before this date.
The Lionsgate production stars Grammer in the lead role as Tom Kane, the mayor of Chicago, who has recently been diagnosed with a degenerative neurological disorder but conceals it from everyone as he's determined to stay in charge.
Stephen Rees' performances of Erik Satie's music were perfect for the brief and they come from his album Stephen Rees Interprets Erik Satie.
Listen to the tracks below or click here to listen to them on SoundCloud.
The tracks used so far in the series are Gnossiennes No,1 & 3 (tracks 4 & 5), Embryons Dessches II: d'Edriophthaima (track 18), and Trois Morceaux en de Poire (track 25).
Buy the tracks from this album by clicking the logos below:
New Album From Becky Jerams
23rd October 2011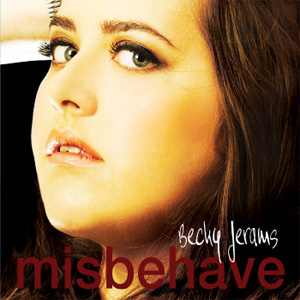 This weekend saw the album launch of Misbehave - the lastest collection of tracks from talented singer/songwriter Becky Jerams - with an energetic live performance in Portsmouth by Becky & Friends.
The album was written, composed, and produced by Becky Jerams & Stephen O'Neill and mastered by John Elleson-Hartley at MUSIKLAB.
Track 3 on the album, La La Love, has already been licensed from NorthStar Music this year for the official movie trailer for Love Wedding Marriage.
Congratulations Becky!
Buy the tracks from this album by clicking the logos below:
Do You Still Remember Video
11th October 2011
This is the new video for the song Do You Still Remember performed by Rolf Harris & Cam Henderson.
Rolf & Cam Remember
7th October 2011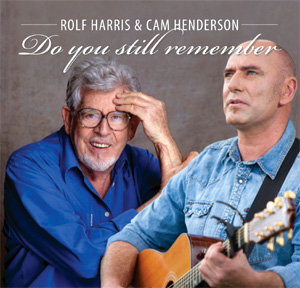 Rolf Harris and Cam Henderson have teamed up to bring us a brand new single - Do You Still Remember.
Written by Grahame Maclean, Becky Jerams, and Steve O'Neill, this song has brought together the legend that is Rolf Harris and the singer/songwriter finalist of 'Australia's Got Talent' Cam Henderson.
It was a chance encounter in Sydney by Rolf's brother and manager, Bruce, that led to Cam and Rolf getting together on opposite sides of the world to record this emotional song.
The two performers finally met in person for the first time last week at an exclusive performance at the BBC Club in London.
"Do You Still Remember" will be released by Right Track/Universal on October 10th 2011 and is available to download from iTunes now.
Dollar Down In Arthur
6th June 2011
Dollar Down featured in the movie Arthur, starring Russell Brand, Helen Mirren, Greta Gerwig, and Jennifer Garner.
What's Your Number Likes Beer
3rd June 2011
I Like Beer featured in the movie What's Your Number, starring Anna Faris, Chris Evans, Martin Freeman, and Zachary Quinto.
Potions & Pranks on America's Next Top Model
14th April 2011

The CW Network's current cycle of their reality television show America's Next Top Model is airing now and last week it featured Potions & Pranks by NorthStar's Stephan Rees - a perfect track for the show.
Listen to the full version above.
La La Love In Love Wedding Marriage Trailer
13th April 2011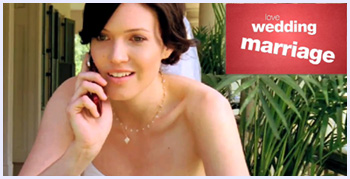 The official trailer for Love Wedding Marriage is out with music including La La Love by NorthStar's Becky Jerams and Steve O'Neil - congratulations to them both on such a fantastic song!
The film, due for release early June 2011, stars Mandy Moore as a happy newlywed counsellor whose views on wedded bliss are thrown upside down by the discovery that her parents (Jane Seymour & James Brolin) are getting divorced.
Here's the full version of La La Love:
Taylor's of Harrogate Sponsor Sky Arts
8th April 2011
Taylors Of Harrogate on Sky Video
To view this content please check your browser is javascript enabled and that you have the latest version of
Adobe Flash
.
Sky Arts is currently being sponsored by Taylor's of Harrogate - Coffee with Character - with the music written by NorthStar composer Neil Myers.
Neil describes the concept of the project as "a series of evocative idents that draw a parallel between the unique characteristics of Taylor's coffee blends and the genres of the arts featured on Sky Arts."
"Each ident is set in a location reminiscent of a particular genre with musical styles ranging from Opera to Jazz, Flamenco to The Rolling Stones. I really enjoyed the challenge of composing so many musical styles."
The music was composed and produced throughout February and early March and will be airing on Sky mid-March.
New Stock Music Album Showcase & Website
18th March 2011
The production music library company Stock Music have a wonderful video showcase for their current album, SMI 364 Easy Living, with the music provided by NorthStar Music writers.
Stock Music also launched a brand new website last week which allows visitors quick and easy access to the wide ranging production music library catalogue.
Click here to visit Stock Music International.
The Easy Living showcase is also available to hear on SoundCloud:
Other links for Stock Music:
YOUTUBE: www.youtube.com/stockmusicint
SOUNDCLOUD: http://soundcloud.com/stockmusic
TWITTER: www.twitter.com/StockMusicInt
Arabella Live Review by JINKYBOYO
18th March 2011

"As drummer Tom rolled his first roll, you just had that feeling that these boys were going to be that good. Dulcet funky vibes echoing a certain Maroon 5 are instantaneous as we are treated a set of songs fit for any record collection.
An endearing blueprint of bluesy riffs and sanctifying vocals of lead singer James collate together to create not only a unique sound, but their sound. Arabella have already spawned what a lot of other unsigned bands haven't; the art of being matchless."
Read JINKYBOYO's full blog post by clicking here.
www.jinkyboyo.wordpress.com/2011/03/09/arabella-live-review/
Discover more about Arabella with the links below:
WEBSITE: www.arabellamusic.co.uk/
FACEBOOK: www.facebook.com/arabellamusicuk
SOUNDCLOUD: www.soundcloud.com/arabella
TWITTER: www.twitter.com/arabellamusicuk
Try Something New Today With Arabella
4th February 2011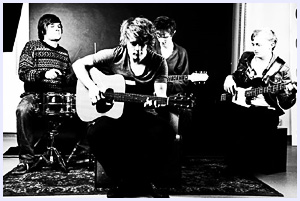 This is a great acoustic version of Try Something New Today, along with an excellent video, by the fantastic four musicians that are Arabella.
Based in Coventry, the band are James Sear (lead vocals, guitar), Matt Morton (guitar, backing vocals), Adam Nicholas (bass, backing vocals), and Thomas Jewett (drums, backing vocals).
Discover more about Arabella by clicking these links:
WEBSITE: www.arabellamusic.co.uk/
FACEBOOK: www.facebook.com/arabellamusicuk
SOUNDCLOUD: www.soundcloud.com/arabella
TWITTER: www.twitter.com/arabellamusicuk
Arabella are published by NorthStar Music Publishing Ltd.
NorthStar Music At Midem 2011
21st January 2011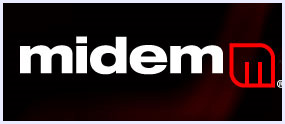 This weekend Grahame and Brigitte from NorthStar Music will be travelling to France to attend this years Midem.
We are looking forward to the annual trip to Cannes for our meetings and discussions, and forging into the year ahead.
Visit www.midem.com for all things Midem.