Merry Christmas! from NorthStar Music
14th December 2009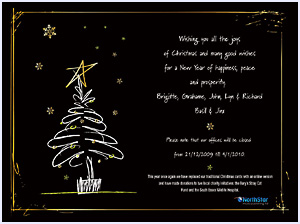 Wishing you all the joys of Christmas and many good wishes for a New Year of happiness, peace and prosperity.
Brigitte, Grahame, John, Lyn, & Richard. Basil & Jinx.
Please note that our offices will be closed from 21/12/2009 untill 04/01/2010.
This year, once again, we have replaced our traditional Christmas cards with an online version and have made donations to two local charity initiatives; the Bury's Stray Cat Fund and the South Essex Wildlife Hospital.
Christmas In The Sun With Rolf Harris & Rick Parfitt
7th December 2009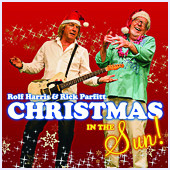 When most of us are wrapped up against the cold, Rolf Harris and Rick Parfitt are not dreaming of a White Christmas but rather just the opposite!
Their exuberant brand new Christmas single captures the joy of sun, surf and golden beaches.
The iconic duo have teamed up to create 'Christmas In the Sun', which was written by Rolf who was inspired to ask Rick to record it with him.
This NorthStar track was recorded in Berlin last year and is released today as a single by UMTV. It also features on the UMTV 3CD compilation album 'It's Christmas Time'.
Rolf is really delighted with the results achieved in the studio by himself, Rick, guitarist Wayne Morris and producer Wolfgang Birnbacher and said:
"What a team! They came up with musical surprises and guitar rhythms that sent shivers up and down my spine. These guys have given me everything I wanted - a positive, hard-driving sound, lively and bouncing with good times, laughter and tons of fun. I couldn't ask for more! Take a listen, and you'll want to join all of us for a 'Christmas In The Sun&rs".
The single was inspired by Rolf's memories of growing up in Western Australia in the 1930s, where the Christmas Day ritual was midday lunch of hot roast turkey with all the trimmings, followed by steaming Christmas Pudding and custard. All exactly as they would have eaten back in 'the Mother Country'. The trouble was that the temperature was usually over 104 degrees Farenheit, with the perspiration dripping off your nose into the potatoes.
Rolf has wanted for years to let the world know about Christmas 'down under' where the sun blazes and everyone heads to the beach, with salads, cold food and chilled drinks. This is Rolf and Rick's happy anthem to a very special 'Christmas In The Sun'.
Buy your copy of 'Christmas In the Sun' from iTunes:

Vera Lynn Ensures They Are Not Forgotten
3rd December 2009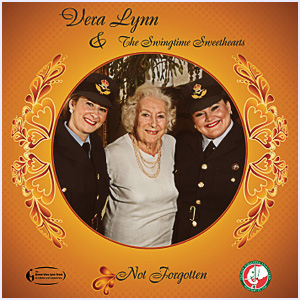 Not Forgotten, a new song featuring Dame Vera Lynn and 1940s singing duo, The Swingtime Sweethearts, is launched today at the Annual NFA Christmas Party at St.James' Palace London and is hoping to raise much needed funds for two well deserving charities; The Not Forgotten Association and Dame Vera Lynn Trust for Children with Cerebral Palsy.
Not Forgotten Video on YouTube
To view this content please check your browser is javascript enabled and that you have the latest version of
Adobe Flash
.
Written by Grahame Maclean and Tony Halligan, "Not Forgotten" features a heartfelt plea from the Forces Sweetheart, urging us all to remember the sacrifices made by our brave servicemen and women, from past and present conflicts.
Help us raise as much money as possible by downloading the tracks from:
Visit our Not Forgotten page for all the latest news about the song, and the fundraising.
"Christmas In The Sun" With Rolf Harris & Status Quo
17th November 2009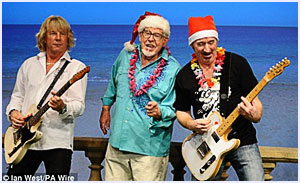 Christmas is almost here and Rolf Harris and Rick Parfait of Status Quo have a treat in store for us with Rolf's festive number, "Christmas In The Sun".
Benn Todd, in his article today for the Daily Mail, writes:
"It has been 40 years since Rolf Harris topped the Christmas charts. And in a market dominated by young acts he has chosen an unlikely partner to help repeat the 1969 success of Two Little Boys.
"The Australian entertainer has teamed up with Status Quo singer and guitarist Rick Parfitt - who is a relatively young 61 years old - to record Christmas In The Sun in a bid to score a lucrative festive hit.
"The song, due to be released on December 7, has been written by Harris, 79.
"Talking of the collaboration, due for release on December 7, Harris said: 'It's a positive, hard-driving sound, lively and bouncing with good times, laughter and tons of fun. I couldn't ask for more.'"
Read the full article from Ben Todd, "Rolf Harris teams up with Status Quo Ho Ho for festive single Christmas In The Sun", on the Mail Online website.
4 Nominations for Groove Kings
11th November 2009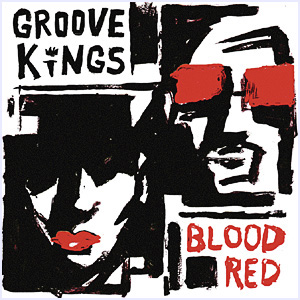 NorthStar's Groove Kings this week received four nominations for the Canadian Smooth Jazz Awards.
The four nominations are:
Female Vocalist of the Year
Irene Marc
Album of the Year
Groove Kings - Blood Red
Best Original Composition
Blood Red - Howard Forman
Group/Duo of the Year
Groove Kings
View the full list of nominations on the Smooth Jazz Now website.
"With Marc's amazing rough-and ready voice deftly navigating the classic rock verses and a memorable soul-drenched chorus, this is irresistible."
Bernard Perusse / MTL GAZETTE HOT YOUNG SINGLES Oct 1/09
"Marc (Irene) possesses a gutsy, full-bodied voice full of passion and verve, while Forman (Howard) masterfully crafts each song with a finely tuned ear. This is certainly an extraordinary return"
Martin Siberok / HOUR Aug 09
"This is an album that feels familiar for the right reasons, like a favorite worn-in leather jacket. It just works."
CBC.CA Sep 09
"Groove Kings genre-breaking debut turns on the charm"
Jeremy Loome / EDMONTON SUN Aug 09
"The Groove Kings purposely deliver hard-hitting melodies, dynamic live instrumentation and convincing performances bound to please any music connoisseur"
SOULTRACKS.com
"Take a great, transplanted musician from Muscle Shoals, an amazingly smooth singer from Montreal, throw them together at a jam in Montreal, and you get this. Howard Forman and Irene Marc make some mighty fine smooth R&B here. This track is a fine example of how it's done. Anybody having trouble finding good Canadian content these days is just not paying attention."
Bob Segarini / FYIMUSIC.CA
"If Santana and Aretha Franklin had a musical lovechild, they would've named it the Groove Kings".
youthink.ca
"Blood Red is a solid affair from beginning to end. Hopefully it will be their breakout release and gain them some popularity south of the Canadian border."
David Bowling / DAILY VAULT Aug 09
"The album contains everything from pop, rock and country/blues influences to RnB, soul and a little jazz, however the talented duo, along with a few quest musicians, manage to hold it all together and the end product is a very good album."
"Groove Kings transport listeners to vinyl days's......"When the Groove Kings albums finishes, you'll be digging through your basement to find those old milk-crates full of classic vinyl."
INTELLIGENCER
"Blood Red" by Groove Kings is a keeper! It not only bridges old-school and the current vibe of the genre, it subliminally pushes the music forward."
Phil Rainone / JERSEYBEAT.com
Rolf's Wispa Gold Campaign
28th September 2009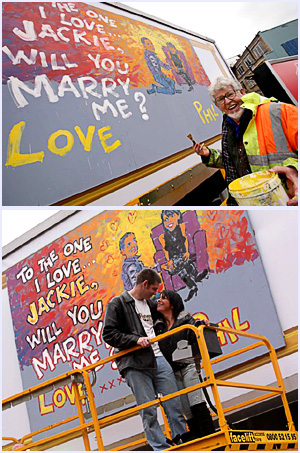 Rolf Harris has just finished filming a 'viral' for Cadbury's Wispa Gold.
It's a Cadbury's PR campaign offering people the chance to see their messages put up on bill boards throughout the country.
Rolf Harris Wispa Video
To view this content please check your browser is javascript enabled and that you have the latest version of
Adobe Flash
.
We've received a huge response from both the public and other major advertising companies who can see the mass marketing potential that this innovative style of online advertising can create by using a well known celebrity.
Rolf, of course, also wrote and performed the theme tune Whistle Up A Wispa!
Neptunes Dance In CSI
28th September 2009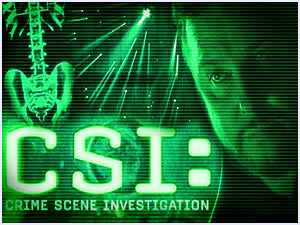 Geraint Hughes, who has been a NorthStar writer for over ten years, and who has penned hits including Star Ship Trouper and Barbados, has written the music used recently for an episode of CSI: Crime Scene Investigation.
CBS music supervisors were looking for the perfect track, fortunately NorthStar published Geraint's 'Neptunes Dance' which fitted the scene perfectly.


The Return Of Sexton Blake
6th September 2009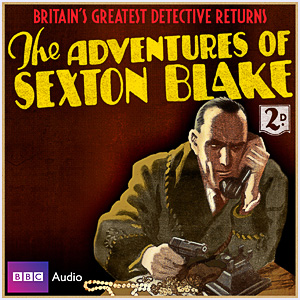 NorthStar's Paul Weir has just finished the musical score for the entire BBC 2 series of Sexton Blake.
A challenge indeed as every musical cue had to reflect the tongue in cheek characters embroiled in a high-speed story line peppered with ever changing incident and musical intrigue.
For the greater part of the 20th Century, Sexton Blake was a household name and a publishing phenomenon, starring in nearly five thousand fantastic stories written by over two hundred authors.
NOW HE'S BACK in a series of thrilling adventures packed with incident and hilarity, Sexton Blake, (Simon Jones) and his plucky assistant Tinker (Wayne Forester), aided by Mrs Bardell (June Whitfield) battle diabolical masterminds, bewitching thieves and sinister fiends, out-thinking them in the head and out-punching them in the jaw!
Also featured in this cinematic audio romp from Award-Winning Dirk Maggs is a cameo from BBC Radio's original Sexton Blake — the legendary and coolly dashing William Franklyn.
Transmitting from a BBC 2 wireless station near you ... SOON!
New Album From Sonya & Glenn
19th August 2009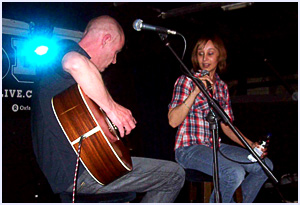 The hit writers of the legendary Indie band Echobelly - Sonya Madan and Glen Johannson - have a new album soon to be released.
Produced by NorthStar's Jono Buchanan the album has already created a buzz of excitement in both London and LA where leading managers, music executives and supervisors are asking for first copies.
Sonya and Glenn's new project is called 'Calm of Zero' and at a recent sell out acoustic gig at Manchester's Moho Club the new songs proved to be a hit with the crowd.
We'll keep you informed.
Paddy's Day Parade
2nd August 2009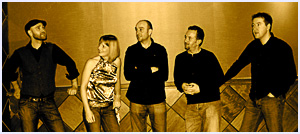 The Father Ted's are without doubt one of the most exciting and musically gifted Irish bands in the UK.
All award winners on their individual instruments their energy and superb live playing thrills audiences throughout the UK.
They penned a song called 'Paddy's Day Parade' which received a fantastic response on national radio at last years St Patrick's Day celebrations.
Music For Revolutionary Road
12th July 2009

NorthStar's Keith Kenniff provided the music for the trailer for the Kate Winslet, Leonardo Dicaprio movie Revolutionary Road.
Keith, who penned the Honda Asimo commercials, and numerous television programs and advertising campaigns, has recently finished a short tour in UK.
Revolutionary Road Video
To view this content please check your browser is javascript enabled and that you have the latest version of
Adobe Flash
.